My room was a mess this weekend. I decided to get around to tackling it Sunday night around 6 PM because I am such a go-getter. I decided to start with my vanity because I had washed all my makeup brushes earlier. There are two missing and I just know I will find them under some furniture one day covered in cat spit and dust bunnies.
While going through everything, I noticed how I have an obscene amount of lip pencils. Most of them are various shades of nude. I ended up giving some to my sister.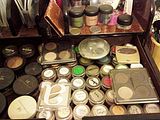 After getting all this put away in two drawers and a train case (the little round jars are upside down pots with MAC pigments), I cleaned out 4 purses and found this.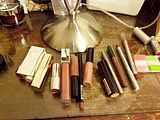 Karen said if we are in Ulta and I pick up another lip pencil, she is going to slap it out of my hand.