I arrived at work yesterday feeling a lot better than I did on Thursday (was sick). I soon felt much better after having warmed up my delicious quinoa, cranberry, cinnamon, honey, and fat free cream porridge that I made.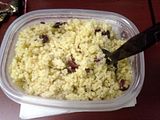 Inayah came in bearing cupcakes baked by her and her children. They were a scrumptious birthday treat for the office.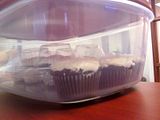 Around midmorning, a delivery arrived for me. Also from Inayah. She is very thoughtful, no?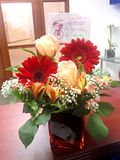 I went home, then soon left for a lecture at the
Jung Center
given by Tenzin Wangyal Rinpoche -
Sleep, Dream, and Clear Light: A Tibetan Mini-Retreat

Today, my sister made me a yummy spinach and feta omelet and gave me a birthday gift of tickets for Connor and I going to see
Body Worlds2 at the Museum of Natural Science
. It was amazing. The sliced body was amazing, but I was particularly fascinated by the woman with the fetus in the uterus.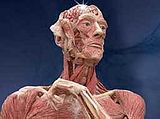 We filled up on Kim Son for lunch and

rainygirl
is coming over for a visit.
Pretty good day.