YAY! I was hoping I would be motivated to clean today. When I got home yesterday, the handyman was here. Karen scheduled him to come install the kitchen lights we bought 2 weeks ago.

Backstory: The guy we bought the house from did not have the best of taste. The kitchen is already small and ugly (except for the stunningly sexy appliances we bought for it) He had at some point, taken down the kitchen light and replaced it with an ugly flourecent light that just hung from the ceiling by wires. It looked like something you would jerry rig in the garage. We always planned to do something about it, but 2 years later, we hadn't done anything. While I was laid off this summer, the light stopped working, but with the reduction in pay, we didn't really hop on doing anything about it. There is a ceiling fan at the other end of the kitchen with lights, and the stove has lights. It sucked though. It was dim and I knew we weren't really getting the kitchen clean.

Two weeks ago, we bought two really cute ceiling lights for $18.00 each at Lowes and a new ceiling fan for my room. Last night Arturo installed the kitchen lights and my ceiling fan. Total to have him install both was $116.83 (including parts). How stupid do we feel for having a dark kitchen since before hurricane Ike? Pretty foolish. We decided to stop dragging ass on our projects and start asking for estimates. We can probably afford more than we think we can.
My ceiling fan is beautiful and so whisper quiet. I am very happy with it.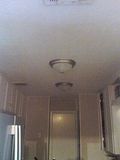 I was excited to clean the kitchen this morning. I started and stepped away for a moment, and Karen started to clean some. I kicked her out. This baby was MINE!. I am thrilled to have a fresh clean, bleached, sanitary kitchen. All appliences, floors, counters, cabinets, etc... are nice and clean and my hands are all dry and wrinkly.
Next: My bedroom!!