Yay!!! It arrived (boooo! for the dumbass that bought it off of ebay without noticing it was coming from Japan)
When I opened it, I thought, "holy crap! Those Asian people do not eat very much." Would explain why I am fat and they aren't. Actually, this tiny little box held a perfect amount to fill me up at lunch, not be cumbersome, and not so much food that I was sleepy afterwards.
On the top layer, I packed in rice and put two sheets of roasted nori on top. On the bottom, I put radishes, a round of baby bell low fat cheese and this thingy I made up last night. I have no idea what to call it except maybe a spinach cheese roll. I cooked a big pack of spinache and put some cream cheese, cayanne pepper, salt, pepper, and some onion flakes. I mixed that all together and spread it on an egg pancake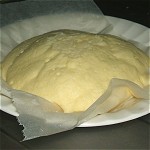 and rolled it up burrito style. I often eat my lunches cold (I like plain cold rice just fine, and I usually prefer my stir fried tofu cold as well). However, that egg pancake/ spinach cheese thing was nasty cold. Warmed up, it was delicious. I was thriiled with my lunch, my bento lunch box, and my little food creation.